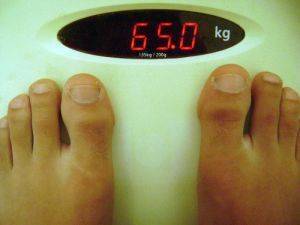 A user of our forum asking us about how to do to determine your ideal weight. This is a very recurring question for people who want to lose weight or simply want to know what is the margin of pounds within which can be moved to not get overweight or obesity.
Fortunately, there are many ways to know what approach the ideal weight of a person. Furthermore, some forms emphasize different issues, but you can try all the different tables and calculations that exist to have a better idea.
Determine your body mass index is a good way to determine if you are overweight or not. To do this you must divide your current weight by your height squared. A simple example: if you weigh 70 kilos and 1.70 tall are you, you multiply this last number by itself (result: 2.89) and dividing that number use it in weight. 70 / 2.89 = 24.221. This means that you are inside a body index of 20-25, which is considered healthy. Read the rest of this entry »

Both green tea and red tea, weight loss can become extremely effective, working seriously, for those who want to limit those extra kilos. However, if the good qualities that have these infusions is added a balanced diet, so much the better.
This diet contains, in addition to a strict diet plan, three cups of green tea both as red a day, usually suggested amount of daily consumption. The ideal is to do this diet for two weeks to clean the body.
Breakfast: One cup of unsweetened green tea, a glass of skim milk and a slice of bread with a teaspoon of honey or jam calorie.
* Mid-morning: A cup of red tea
* Food:
or First choice: steamed vegetable soup (green beans, carrots, leek) seasoned with a teaspoon of olive oil, 100 grams of nonfat cheese, a kiwi, an infusion of linden. Read the rest of this entry »