In certain stages of life, defenses can be undermined. In these cases it is advisable restableces the proper functioning of the defense system in perfect condition taking vitamins like A, C and E and minerals, among which iron, zinc, selenium and copper.
As for the recommendation of a balanced diet, we provide all the nutrients the body needs, it also serves to ensure the proper functioning of the immune system.
Food intake should be adequate energy, if we eat more calories than your body needs will gain weight and can affect the immune system's ability to fight infection.
The right thing is to limit the fat and replace less healthy, from red meat, bakery products, sausages, etc,. by others that they are, as the oily fish, nuts and olive oil. Read the rest of this entry »
If you are one of those people who love coffee and take a cup all the time, maybe you're tired of every time you remember that coffee is bad. A new find gives you a good argument in defense of your habit: daily consume more than four cups of this drink can help reduce the risk of developing endometrial cancer.
Coffee is one of the most widely consumed beverages around the world, among other things because it contains caffeine, a substance that stimulates the nervous system, makes you feel more alert, more energetic, and helps your body to lose fluid, acting as a natural diuretic. Read the rest of this entry »
Fat is the term used to encompass the room temperature solid fat (butter, margarine and shortening) or liquid such as oils. All are formed by the union of glycerol with three fatty acid molecules. These fatty acids can be saturated, monounsaturated or polyunsaturated. Animal fat has a high proportion of saturated fatty acids whereas vegetable oils contain polyunsaturated fatty acids (sunflower oil or soy) or monounsaturated (olive oil).
The fat produced in the combustion 9 kilocalories per gram and, therefore, have an important role as energy supply to the body. Some polyunsaturated acids are part of cell membranes and are necessary for the synthesis of substances that regulate inflammation and blood clotting. It is therefore considered essential fatty acids and should be part of the diet. Except for this small amount of essential fatty acids, fat is not strictly necessary, but is healthier diet with at least 30% fat and is also more palatable.
- It is recommended that fats contribute about 30% of calories from the diet. Read the rest of this entry »
Carbohydrates are foods formed by
* Simple sugars, or monosaccharides: glucose, fructose and galactose, or
* Sugars together in pairs to form disaccharides:
- Sucrose or table sugar, formed by the union of glucose and fructose or
- Lactose, formed by the union of glucose and galactose.
Simple sugars can be combined into more complex molecules, up to thousands of monosaccharide units to form other carbohydrates such as starch or glycogen and fiber such as cellulose, pectin and fructo-oligo-saccharides, etc..
Carbohydrates are found in plant foods. Fruits contain primarily monosaccharides, disaccharides, and fiber. The tubers, cereals and vegetables, starches and fiber. Foods of animal origin, except for milk which contains lactose, the liver and a small amount of molluscs, have no carbohydrates in appreciable amounts. Read the rest of this entry »
From a chemical standpoint, proteins are formed by the union of several molecules of twenty different amino acids. Nine of these twenty amino acids can form in the body and is necessary to take them with food proteins, are essential amino acids. Proteins are therefore essential in the diet.
The amino acids in proteins are required for the formation of all body organs and molecules that regulate the functioning of body, such as some hormones, and defend us from infections, such as antibodies. Each protein has an important role, and its lack causes an abnormality or disease. A diet without an adequate amount of proteins allows the development of growing animals and non-protein diet leads to death within months.
The proteins have a greater "biological quality" the more essential amino acids they contain, and thus can maintain the growth of animals with varying degrees of ease. If the protein is "high quality", small amounts sufficient to maintain normal growth. As diminishes the quality of the protein require greater amounts to achieve the same effect. Read the rest of this entry »
What are nutrients?
Foods contain hundreds of different substances, some of which have an important role in nutrition, because they are used in functions such as:
- Produce the energy needed for muscle activity and chemical reactions that sustain life.
- Build the body, becoming part of its structure.
- Contribute to regulate metabolic functions.
These elements or substances known by the name of nutrients, and according to the daily needs of them are distinguished: Read the rest of this entry »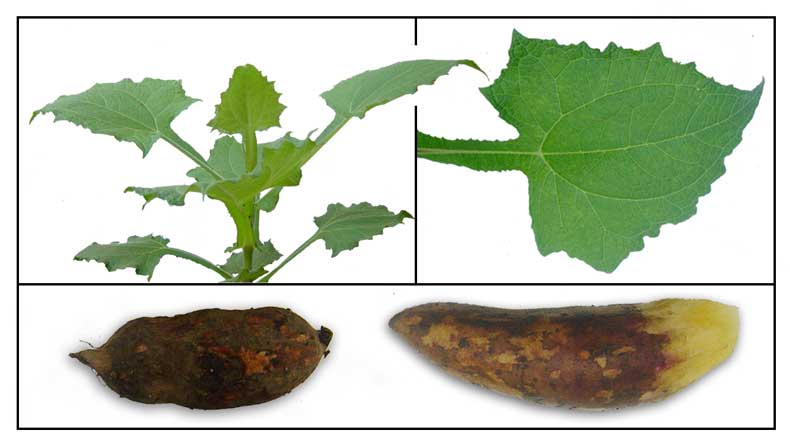 Main Actions:
hypoglycemia, antioxidant, antibacterial, antifungal, liver protector
Main Uses (leaves):
for diabetes and high blood sugar
as a tonic for the liver and liver problems
as an antimicrobial for kidney and bladder infections
as an antioxidant (especially the liver) Read the rest of this entry »
While the root of yacon is currently being marketed to diabetics and people on diet … no lowering effect on blood sugar has been published in humans or animals for tubers (leaves only). Because it contains a type of sugar is not metabolized (it is also much lower in calories), is certainly a substituent regular sugar sweetener for diabetics and dieters. Consumers should be aware that however, the yacon root will not help diabetics to reduce or maintain levels of blood sugar as some are trying to sell (and indeed the tuber does not contain glucose and fructose).
Today in local markets yacon root is considered a fruit and is sold with other fruits like pineapple or apples (not in so large and diverse section of potatoes from the market). The tubers have a wonderful sweet flavor improves when dried in the sun until the skin is wrinkled a bit. Read the rest of this entry »
Leaves
The hypoglycemic action of the leaves of yacon has been demonstrated in laboratory studies with normal and diabetic rats by researchers in Argentina. A decoction of the leaves of yacon reported to produce a significant decrease in blood sugar levels in normal rats when administered by injection or orally.
In glucose tolerance tests, a single application of a decoction of the leaf, decreased levels of plasma glucose in normal rats. In contrast, a single oral application or injection of the decoction of the leaves of yacon had no effect on levels of plasma glucose in rats with diabetic condition induced in the laboratory.
However, the administration of a lower dose of leaf tea instead of water for 30 days produced a significant hypoglycaemic effect in rats with diabetes induced in laboratory condition. Read the rest of this entry »
The root or yacon tuber is a rich source (up to 67%) of fructooligosaccharides (FOS). These compounds help give the sweet potato flavor but most of these types of sugar are not easily digested or metabolized by humans. For this reason, Yacon shows much promise as a food for diabetics and as a base for low-calorie sweeteners. These oligofructanos have been classified recently as "prebiotics."
Since they are not digested in the human gastrointestinal tract, they are transported to the colon where they are fermented by selected species of intestinal microflora (especially Bifidobacterium and Lactobacillus) and helps balance the intestinal flora and aids digestion.
A laboratory study suggests that the prebiotic effect of yacon tuber extracts during the fermentation process increases the natural production of beta-glucans that act as a nonspecific immunostimulant. Read the rest of this entry »